CURRENT CONDITIONS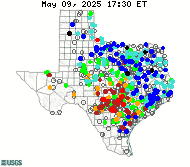 Zoomable map.
DATA CENTER
Quick Link to NWIS data
Newly installed continuously monitored sites

Receive updates about water
conditions by subscribing to WaterAlert.
USGS IN YOUR STATE
USGS Water Science Centers are located in each state.
Texas Water-Resources Studies & Research Projects
The Texas Water Science Center conducts hydrologic projects that address a wide variety of water-resources issues, including water supply, groundwater contamination, nutrient loading in streams, effects of land use on water quality, and basic hydrologic data collection. This page lists the major projects currently underway and other topics of hydrologic interest.
Spotlight on Texas Projects
Texas Projects
More Texas Projects