CURRENT CONDITIONS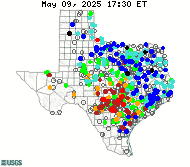 Zoomable map.
DATA CENTER
Quick Link to NWIS data
Newly installed continuously monitored sites

Receive updates about water
conditions by subscribing to WaterAlert.
USGS IN YOUR STATE
USGS Water Science Centers are located in each state.
Hydrologic Information and Data for Texas
The U.S. Geological Survey currently operates about 688 data collection sites in Texas for acquiring information on surface-water, groundwater, water-quality, and precipitation. These sites are equipped with satellite telemetry, which provides real-time data via GOES satellites and downlinks, which enables the posting of data to the Web for public dissemination.
| | | | |
| --- | --- | --- | --- |
| | Investigate Texas' surface-water resources. | | Find real-time and historical water data from USGS's National Water Information System. |
| | Find out more about Texas' groundwater resources. | | View lists and information about water-montioring sites in Texas. |
| | Find out about issues concerning Texas' quality of water. | | Explore Texas' geographic information systems resources. |
| | | | Information quality inquiry regarding the USGS NAWQA: Parking-Lot Sealcoat study. |