Texas Flood Watch
Rainfall calculator
How much water falls during a storm?
See how much water fell in your yard, neighborhood, and city.
Choose an area (or multiple areas) and a rainfall amount—then it will tell you how many gallons of water fell from the sky onto that area.
More water calculators at USGS Water Science For Schools
Texas Water Dashboard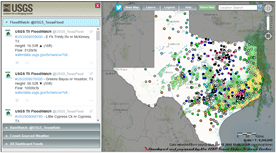 The Texas Water Dashboard is a web mapping application that presents U.S. Geological Survey (USGS) real-time stream, lake, reservoir, precipitation, and well data in Texas in context with current weather and hazard conditions.
Two fully-autonomous Twitter feeds distribute water level and precipitation data during flooding or severe rainfall: @USGS_TexasFlood and @USGS_TexasRain.
USGS Texas FloodWatch
National Weather Service (NWS)
The National Weather Service (NWS) has not identified a flood stage at all USGS streamgaging sites.
USGS Flood Resources
Texas State Agencies
Texas Water Development Board
USGS Flood Publications
Selected USGS Texas Flood Publications
Additional Publication Indexes