Water Resources of Texas
The USGS Texas Water Science Center gathers water information to minimize the loss of life and property from natural disasters, to contribute to the conservation and sound economic and physical development of the Nation's natural resources, and to enhance the quality of life by monitoring water, biological, energy, and mineral resources.
---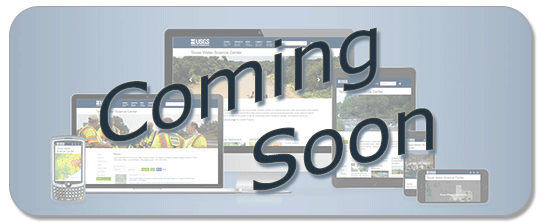 Texas Water Science Center webpage redesign
This August, the Texas Water Science Center will be unveiling our new public web pages.
Your bookmarks to NWIS Web (water data) will be unaffected.
The redesign aligns the USGS Texas Water Science Center with the overall USGS design, and presents a modernized and unified connection to all USGS Science.
If you have any early questions or concerns about the redesign, please reach out to us! We're also very interested in your comments and thoughts when the new design is launched - let us know if we improved things for you!
Texas Public Information · Facebook · Twitter
---
The updated Texas Water Dashboard shows real-time water data collected at USGS observation stations in context with weather-related data from other public sources.
What's New?
Added real-time Water Quality data
New 'rate of change' option for streams shows rising and falling conditions
River Report gives a state-wide summary of water conditions
New layout for map controls
Improved access for mobile devices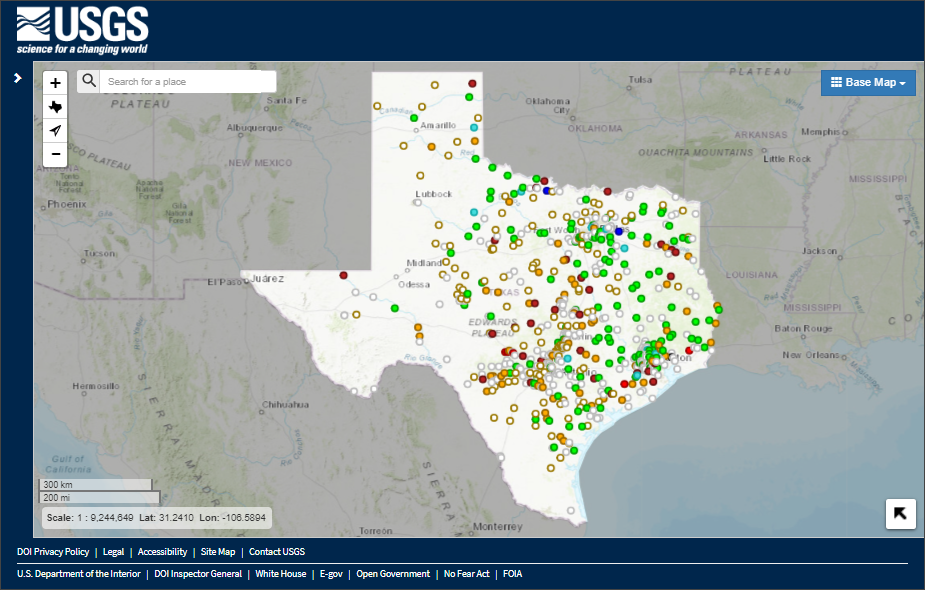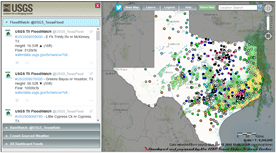 Texas Water Dashboard is a web mapping application that presents U.S. Geological Survey (USGS) real-time stream, lake, reservoir, precipitation, and well data in Texas in context with current weather and hazard conditions. Two fully-autonomous Twitter feeds distribute water level and precipitation data during flooding or severe rainfall: @USGS_TexasFlood and @USGS_TexasRain.
The application is best viewed in Chrome, FireFox, or Internet Explorer 9 and above.
Texas Water Science Center News
Spotlight

Spotlight on: Scientific Publications

Characterization of peak streamflows and flood inundation of selected areas in southeastern Texas and southwestern Louisiana from the August and September 2017 flood resulting from Hurricane Harvey

By Kara M. Watson, Glenn R. Harwell, David S. Wallace, Toby L. Welborn, Victoria G. Stengel, and Jeremy S. McDowell

Scientific Investigations Report 2018-5070

Spotlight on: Water Science Seminars

See upcoming seminars or browse the seminar archive at http://tx.usgs.gov/about/seminars.html.

To be alerted to upcoming seminars and other USGS information, email gs-w-txpublicinfo@usgs.gov.

Spotlight on: Science

Characterization of peak streamflows and flood inundation in Texas and Lousiana following Hurricane Harvey

In the immediate aftermath of Hurricane Harvey related flooding, the USGS Texas Water Science Center and the Federal Emergency Management Agency (FEMA) initiated a cooperative study to evaluate the magnitude of the flood, determine the probability of occurrence, and map the extent of the flood in Texas.

Learn more:

GWWebFlow

---

GWWebFlow is a browser-based groundwater model viewer designed to allow users to easily explore model inputs and outputs for published and approved USGS models.

It currently supports the MODFLOW family of models, including MODFLOW2005, MODFLOW-NWT, MT3DMS and SEAWAT.

Learn more: