Follow us on Twitter!
DATA CENTER

Receive updates about water
conditions by subscribing to WaterAlert.
ABOUT THE TEXAS WSC
USGS IN YOUR STATE
USGS Water Science Centers are located in each state.
Water Resources of Texas
Water information is gathered by the USGS Texas Water Science Center to minimize the loss of life and property from natural disasters, to contribute to the conservation and sound economic and physical development of the Nation's natural resources, and to enhance the quality of life by monitoring water, biological, energy, and mineral resources.
The USGS provides real-time stream stage and stream flow, water quality, and groundwater levels for more than 650 sites in Texas, including these newly installed continuously monitored sites.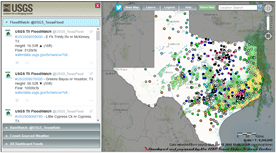 Texas Water Dashboard is a web mapping application that presents U.S. Geological Survey (USGS) real-time stream, lake, reservoir, precipitation, and well data in Texas in context with current weather and hazard conditions. Two fully-autonomous Twitter feeds distribute water level and precipitation data during flooding or severe rainfall: @USGS_TexasFlood and @USGS_TexasRain.
The application is best viewed in Chrome, FireFox, or Internet Explorer 9 and above.
Spotlight

Spotlight on: Scientific Publications

Characterizing the subsurface geology in and around the U.S. Army Camp Stanley Storage Activity, south-central Texas

By Charles D. Blome and Allan K. Clark

Fact Sheet 2017-3090

Spotlight on: Water Science Seminars

Upcoming Seminar:

Friday, August 25, 11:00 am

A New Regional Investigation of Groundwater Availability of the Coastal Lowlands Aquifer System: An Overview of Objectives and Approach

See upcoming seminars or browse the seminar archive at http://tx.usgs.gov/about/seminars.html.

To be alerted to upcoming seminars and other USGS information, email gs-w-txpublicinfo@usgs.gov.

Spotlight on: Science

Texas Gulf Coast Groundwater and Land Subsidence: Forty Years of Research in the Houston-Galveston Region

The Texas Gulf Coast Groundwater and Land Subsidence Program web application illustrates how groundwater, sediment compaction and land-elevation change are related in the Houston-Galveston region in Texas.

The region represents one of the largest areas of land-surface elevation change, or subsidence, in the United States. Most of the land subsidence in this region has occurred as a direct result of groundwater withdrawals for municipal supply, commercial and industrial use and irrigation. The viewer shows how water levels have changed over time and how groundwater demands have affected land subsidence in the region with more than 40 years of groundwater and compaction observations.

Learn more: